Beelink S1 Mini PC  -  8GB RAM + 64GB ROM Intel N3450 Support's Windows 10 + Voice Control + Type-C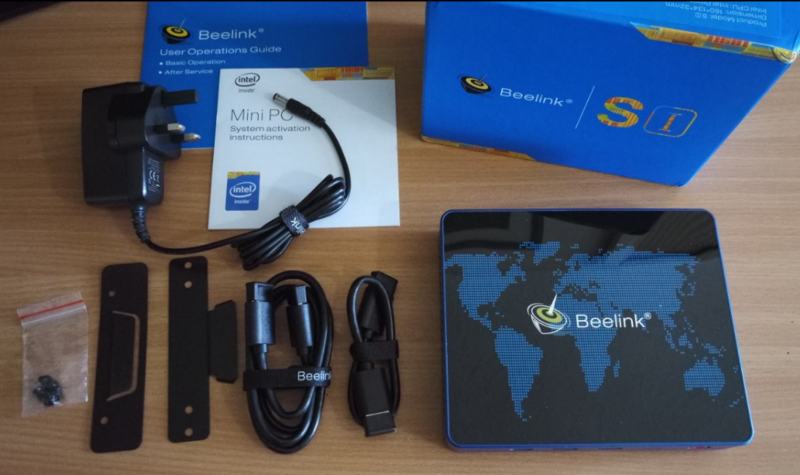 Hi Guys,Now we have a Awesome device to review The New
Beelink S1
(Blue Lover)from Beelink
Main Features
:
* Can control your devices through voice control
* With Type-C connector (Dont work as a display output)
* Intel N3450 quad-core CPU, up to 2.2GHz
* Bluetooth 4.0 connectivity.
* Can store a very large amount of data
* Low power consumption
* Support wireless keyboard and mouse
* Optional 4G or 8G DDR3 RAM
* With the Windows 10 operating system, your surfing experience is very smooth, and you don't have to keep rebooting all the time
* Support dual band WiFi of 2.4G and 5G
Top of the Box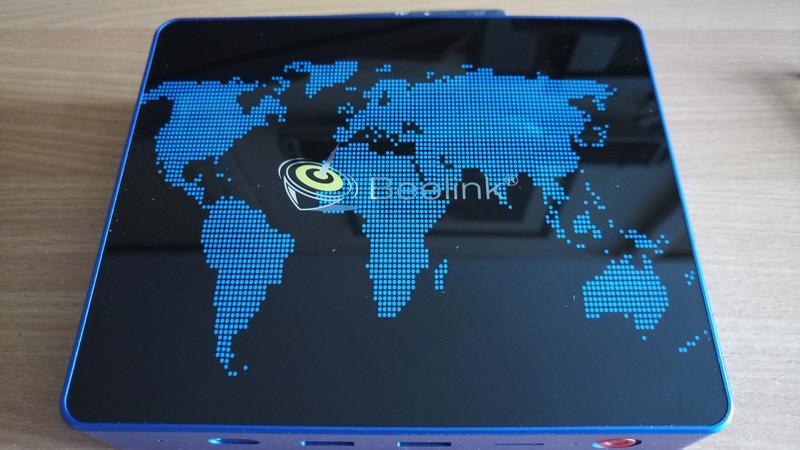 Is a map of the globe
Front of the box
[/url]
Is the microphone,Type C USB,2x USB 3 Ports,Micro SD Slot,Power LED & the power Button
Left and right sides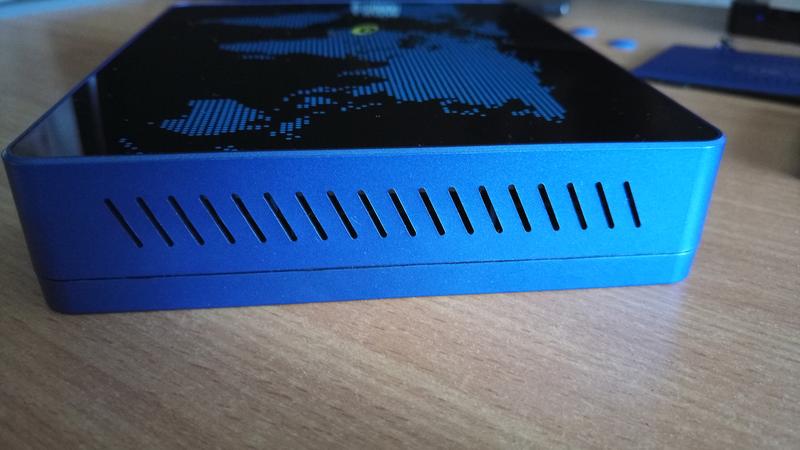 [/url]
Is some Vent's (I like vents)
Rear of the box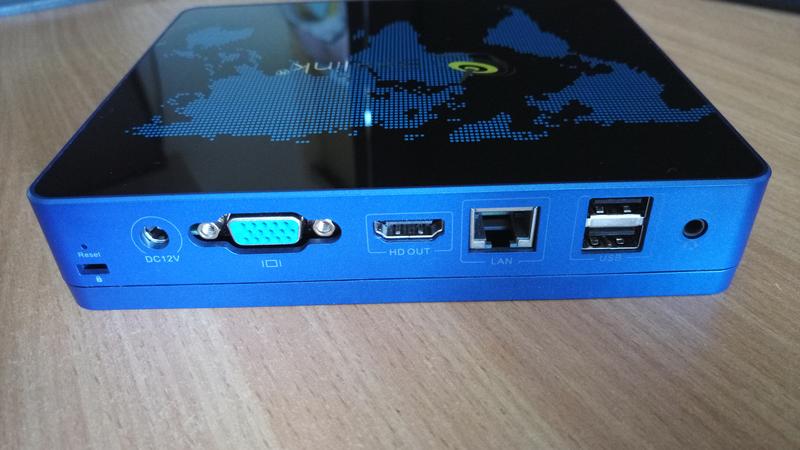 [/url]
You can find the Reset button,kingston locking hole,Power port,VGA,HDMI,LAN,2x USB2 & the 3.5MM headphone jack
Under side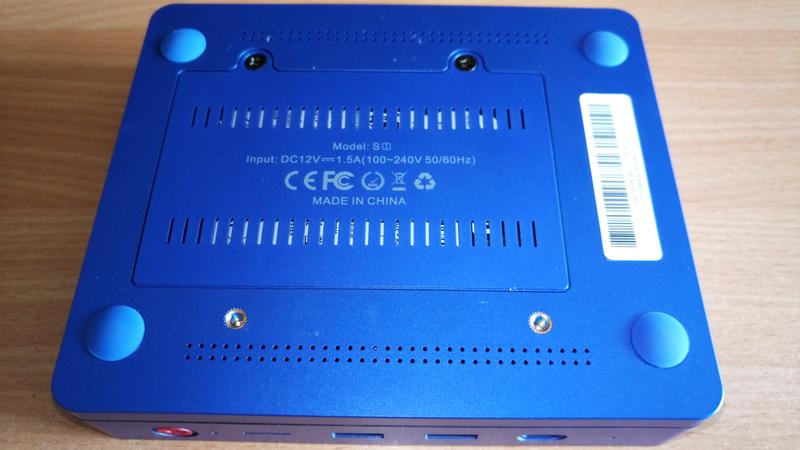 [/url]
4 Rubber feet,SATA slot
Inside the SATA slot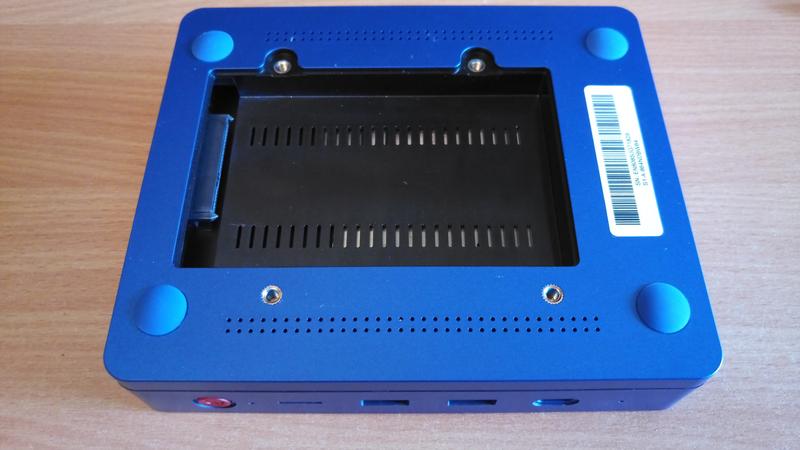 [/url]
Plenty of room for a SSD or a Hard drive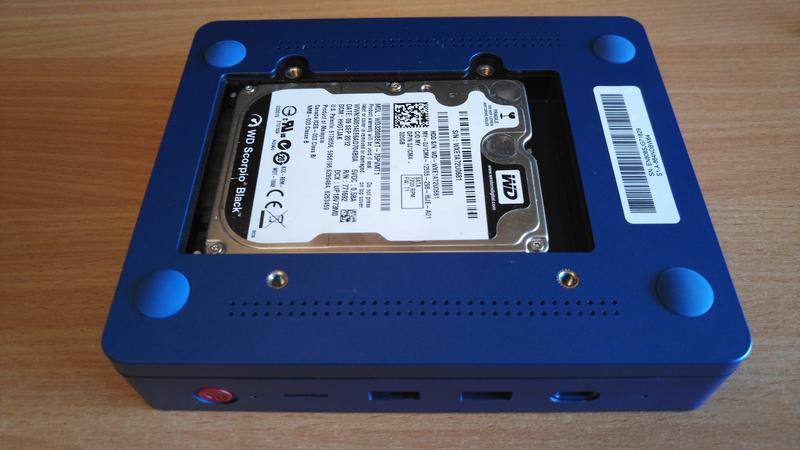 [/url]
The S1 is a all plastic square box with venterlation holes on the both side and the bottom, It has a extra large aluminum heatsink so big it almost covers the whole of the PCB, Giving it a good chance to keep the unit cool and i can say it works very well indeed with all my tests the device just dont get hot.
Now lets boot the S1 up see how it runs,
On the first boot of the S1 Took me to the windows setup, language product key etc etc (No need to enter a windows key here) just skip it for now then you will find it gets fully activated after the setup is compleat.I then got notified that there was a windows update (4GB) so i let that run, That Took over 2.5 hours to update and now i have the latest Windows Version 1703 Build 15063.413.
[/url]
The S1 is now showing around 40GB of free space in windows after all the latest updates.
The boot time on the S1 is around 23 seconds & that takes you straight to the main windows screen where your ready to go.
One of the first things i wanted to test was the inbuilt microphone,That does work well in a silent room but if you have the tv on it dont work that well it also dont work too good once its mounted to the back of the TV.
What works
64GB & 128GB sd works
128GB USB Stick
Samsung 1TB unpowered HD works
Tronsmart Mars G01 Gamepad works
Logitech c270 webcam works
Wd 320GB hard drive works
Im still waiting for my M.2 ssd to arrive so cant test that right now
Some tech stuff
Antutu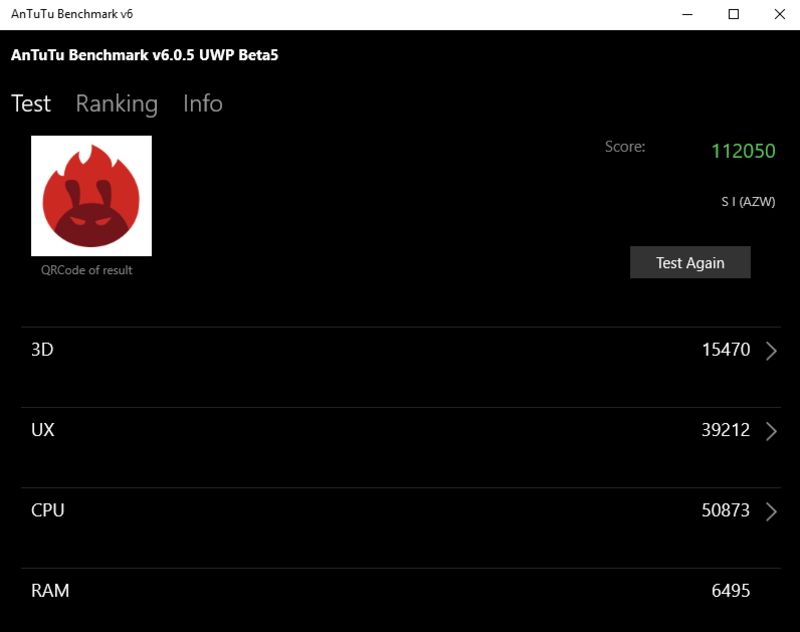 [/url]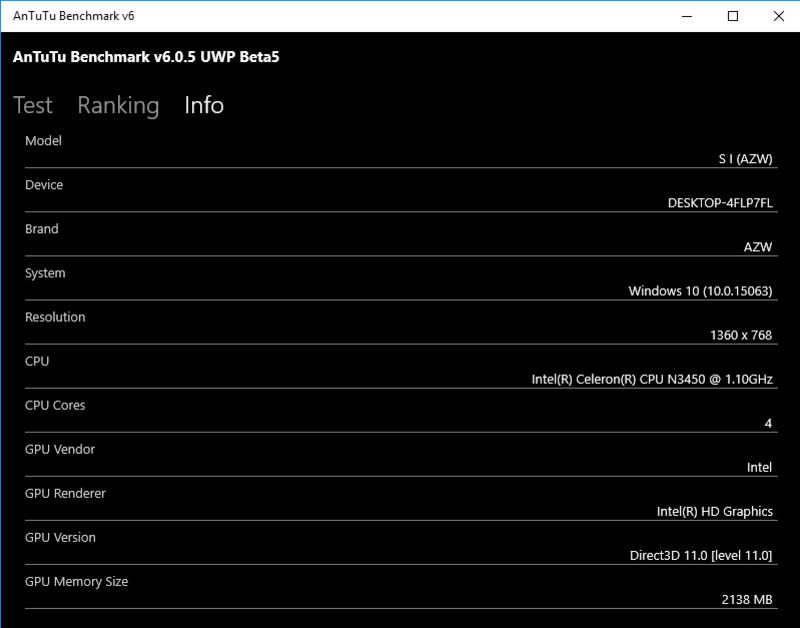 [/url]
CPU Z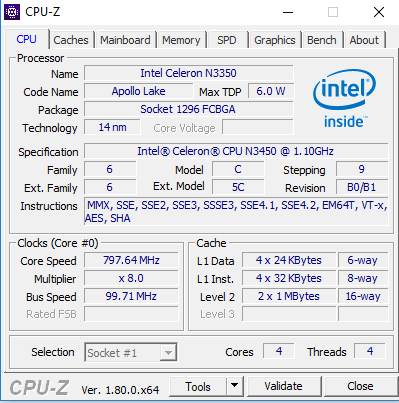 [/url]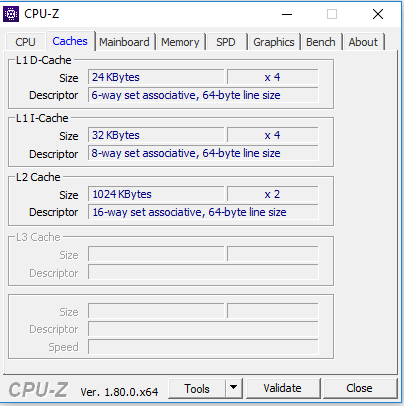 [/url]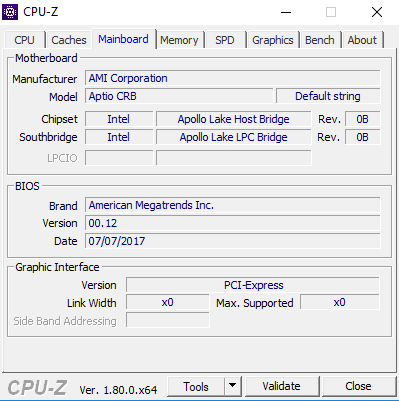 [/url]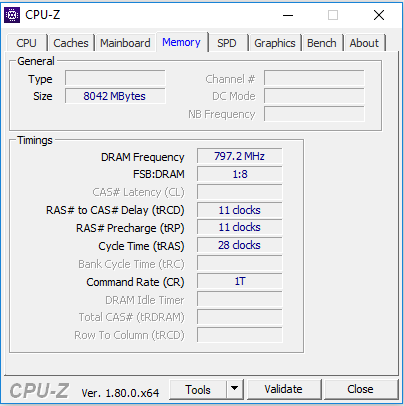 [/url]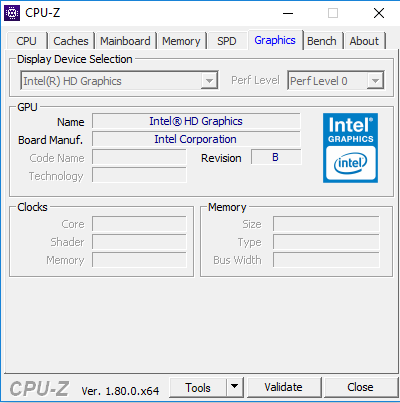 [/url]
Crystal disc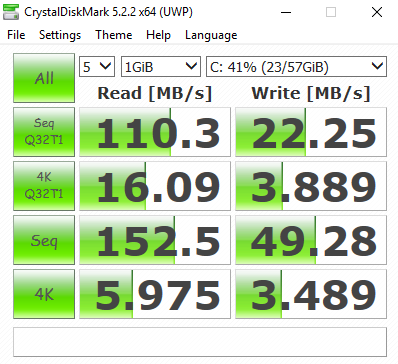 [/url]
Aida 64 cach and memory benchmark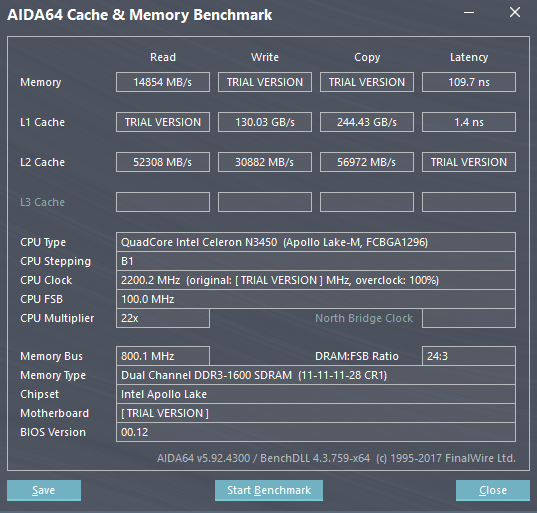 [/url]
Aida64 gpid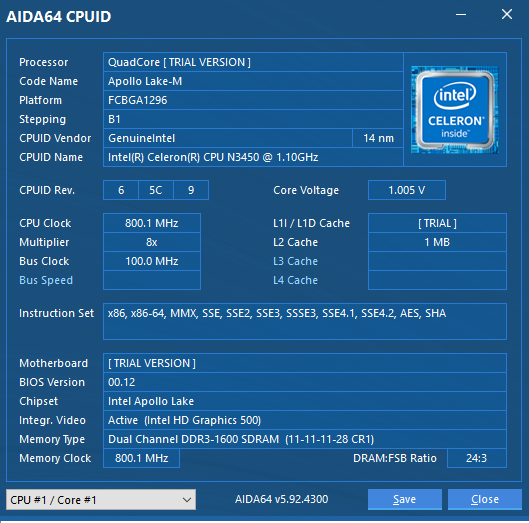 [/url]
Aida64 gpu benchmark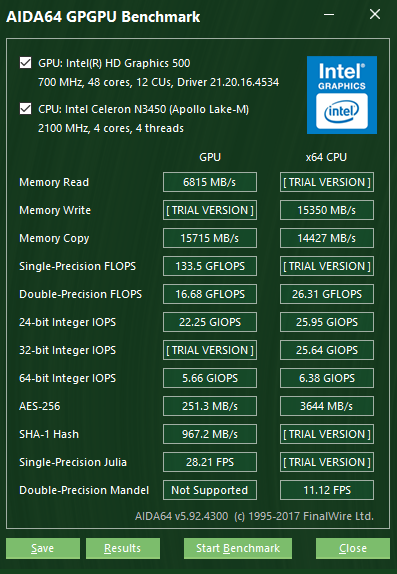 [/url]
Aida64 stability test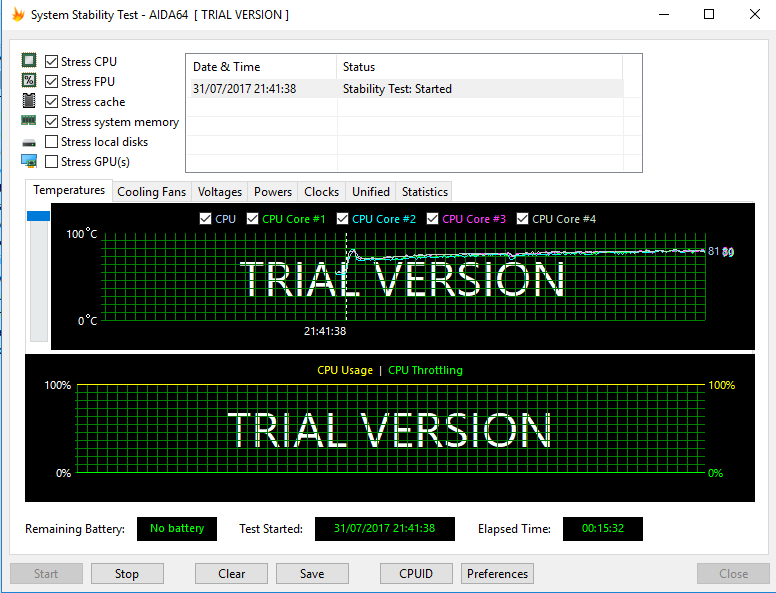 [/url]
Device manager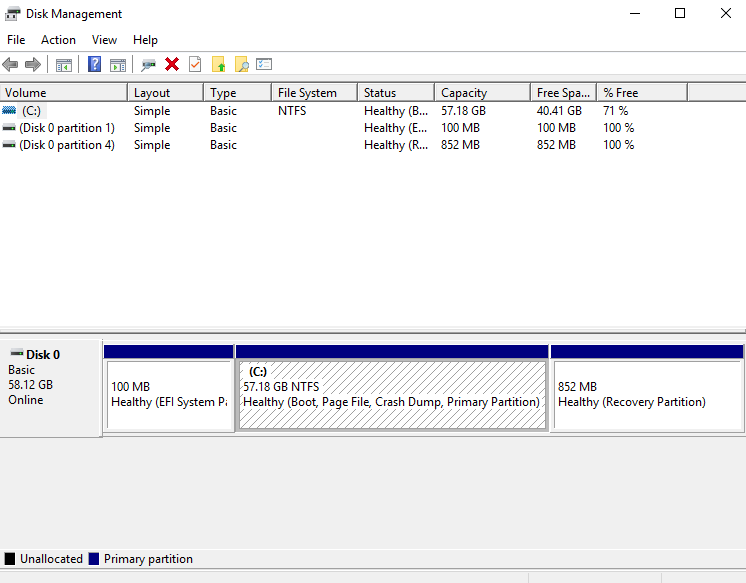 [/url]
Some Internal Photos
[/url]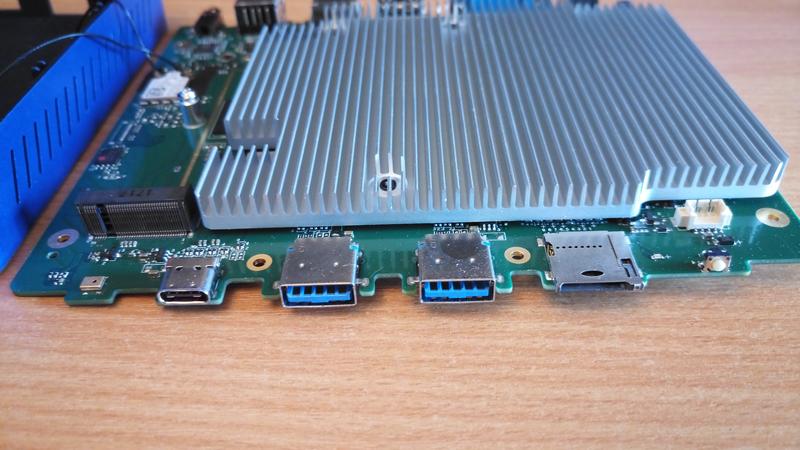 [/url]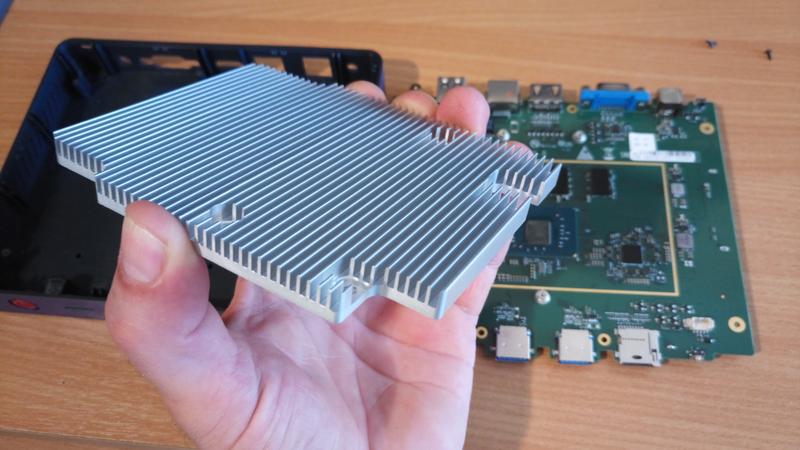 [/url]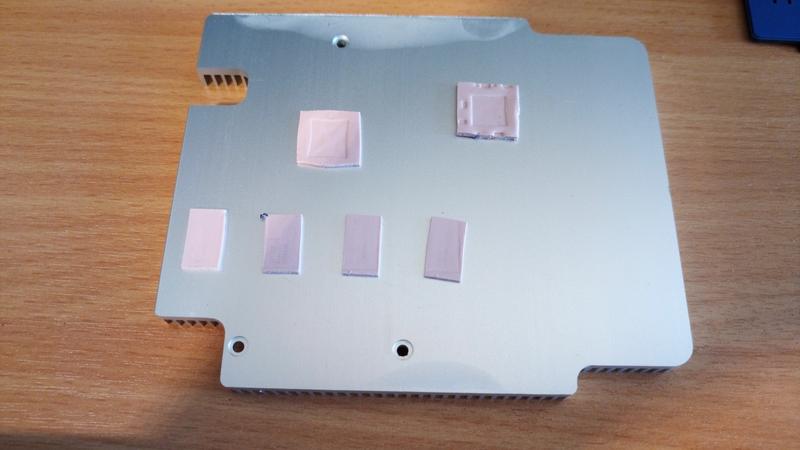 [/url]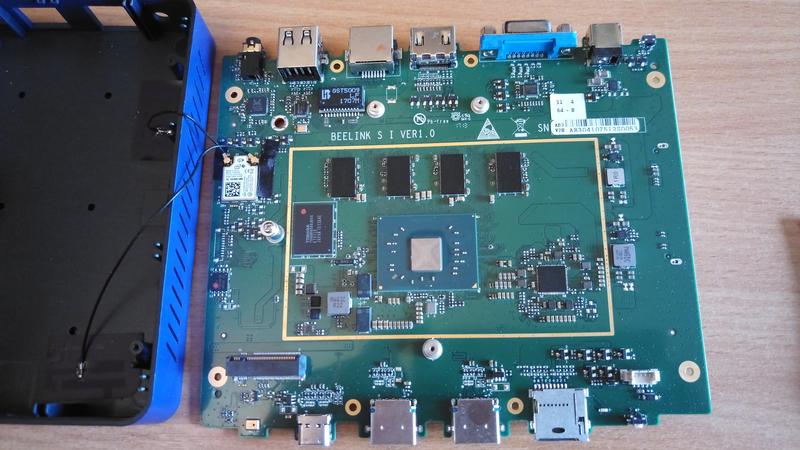 [/url]
[/url]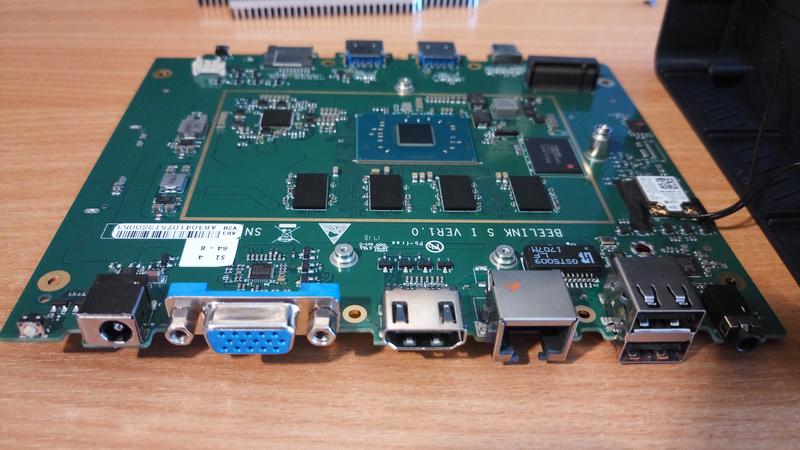 [/url]
I feel that there are only 2 things i would of liked to have seen on the S1 The first being a external Antenna (I feel a mod coming on)and the 2nd it would of been nice to be able to use Type C port as another display out as at the moment the type C port only seems it can be used for data transfer.
I also dont see the point of the kingston locking hole on a plastic box that Could easy be broken
Video Review
Specification
(From webpage)
SoC – Intel Celeron N3450 quad core Apollo Lake processor @ 1.10 GHz / 2.20 GHz (Burst frequency) with Intel HD graphics 500 @ 200/700 MHz  (6W TDP)
System Memory – 4 or 8 GB DDR3
Storage – 64 GB eMMC flash, internal SATA slot, M.2 SSD slot up to 512 GB, micro SD card slot up to 128GB
Video Output – HDMI 1.4 up to 4K @ 30 Hz, VGA port
Audio – HDMI, 3.5mm headphone jack, digital microphone
Connectivity – Gigabit Ethernet, dual band 802.11 b/g/n/ac Wi-Fi, and Bluetooth 4.0 (Intel 3165 WiFI chip)
USB – 2x USB 3.0 host ports, 2x USB 2.0 host ports, 1x USB type C port (video output is not supported)
Misc – Power button, reset pinhole, Kensington lock
Power Supply – 12V/1.5A
Dimensions –  16 x 13.45 x 3.20 cm
Weight – 407 grams
Media Supported
Decoder Format: H.263,H.264,HD MPEG4
Video format: AVI,DAT,ISO,MKV,MP4,MPEG,MPEG1,MPEG2,MPEG4,RM,WMV
Audio format: AAC,APE,FLAC,MP3,OGG,RM,WMA
Photo Format: GIF,JPEG,JPG,PNG
Support 5.1 Surround Sound Output: No
Product Details
5G WiFi: Yes
WIFI: 802.11 a/b/g/n/ac
Bluetooth: Bluetooth4.0
Power Supply: Charge Adapter
Interface: DC Power Port,HDMI,RJ45,USB2.0,VGA
Language: English,French,Germany,Italian,Japanese,Russian,Si mplified Chinese
DVD Support: No
HDMI Version: 1.4
Other Functions: 3D Video
Power Consumption.: 12W
RJ45 Port Speed: 1000M
Firmware Information
System Bit: 64Bit
WiFi Chip: Intel3165
Double Driver Back up
https://mega.nz/#F!dThhgB7A!M2eeVCnrM4FNwCkNacTShg
Bios Back up
https://mega.nz/#!AG5VkDAL!iUWb2GfDETOf6...UMXPXXKIVk
Power Requirement
Power Type: External Power Adapter Mode
Dimension and Weight
Product weight: 0.4070 kg
Package weight: 1.2500 kg
Product size (L x W x H): 16.00 x 13.45 x 3.20 cm / 6.3 x 5.3 x 1.26 inches
Package size (L x W x H): 17.20 x 14.50 x 9.20 cm / 6.77 x 5.71 x 3.62 inches
Basic unboxing video
Whats in the Box
1 x Beelink S1 Mini PC
1 x Adapter ( 12V 1.5A )
1 x 80cm HDMI Cable
1 x 20cm HDMI Cable
1 x English Manual
1 x Vesa Bracket